ASO: don't underestimate the importance of your store pages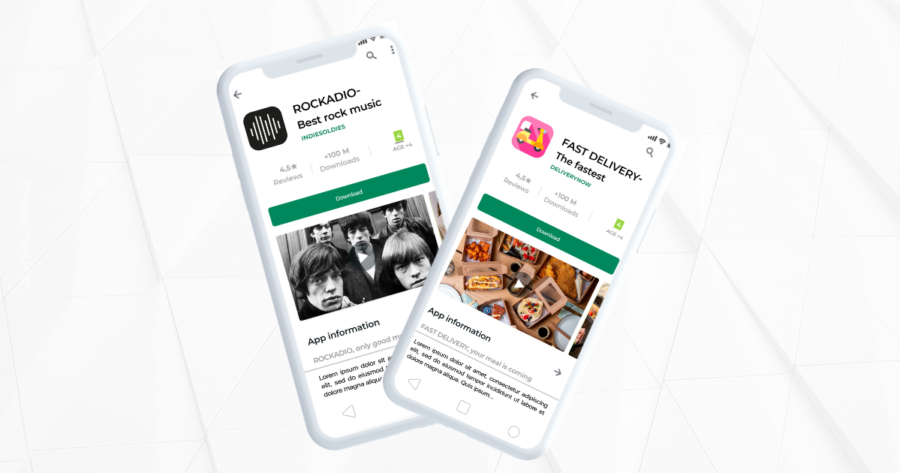 Store pages are the entry point for all your app users. Every user will see the page, so it has to be clear and attractive.
It also has to stand out from the millions of apps available on stores.
What is ASO and what are the challenges?
ASO is the process of improving your app visibility in mobile app stores to improve your search ranking and increase the app store conversion rate to boost downloads.
There are two areas of improvement that need to be considered when working on your ASO.
The first is visibility. Like web search engines, stores use algorithms to rank different apps in search results. So it's vital to use your keywords carefully to optimize your ASO and improve your position in search results.
By improving your search result ranking, you increase the potential traffic volume on the app page. The app's reviews and ratings also help to do this.
The other key point is conversion, where different visual elements (screenshots, videos and icons), and texts are used to attract and convince users.
As an expert in performance-based mobile acquisition ADDICT MOBILE knows just how important store pages are in a mobile marketing strategy. There is nothing sadder than paying to acquire new users only for them to land on a poorly optimized store page. This can only have a negative impact on campaign performance.
So the challenge is twofold: what you need is more visibility on iOS and Android app stores – and to acquire new users naturally via searches – but also to reduce acquisition costs by improving your conversion rate (clicking on an ad that leads to app installation).
To do this you need a foolproof method. The first thing is to do an in-depth review of the app and its environment.
– Analyze the advantages and the ranking of your app.
– Get to know its essential features.
– Analyze the direct and indirect competition.
– Do things better, or differently.
How to make the most of text fields to boost visibility
While Google and Apple are extremely discrete about their algorithm design, we can tell you about certain factors that have a significant impact on an app's search result ranking. But bear in mind that the importance of these elements varies from one store to another and that algorithms change frequently.
Using the text fields on your store page you can insert keywords that will be recognized by the algorithms to adjust your search result ranking.
The keywords you want to emphasize can be placed in different areas in the store. Their impact will differ depending on the operating system (OS).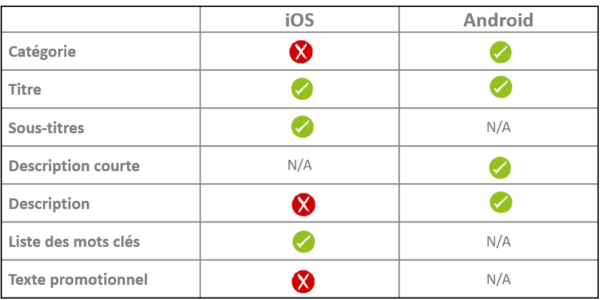 An in-depth analysis of the app keywords and how the app ranking is affected by these terms is vital to work out what strategy to adopt. Addict Mobile has specific tools for this purpose – to analyze competitive keyword relevance  – just like SEO for web pages.
Finally, don't forget that these text fields are intended for users and they have to be grammatically correct, attractive, and easy to understand too to encourage downloads.
What other factors affect your app's search result ranking?
Another important factor for both Android and iOS app stores is the number of app downloads.  A large number of installations shows that users are interested in your app and encourages algorithms to prioritize it.
Both stores also track app usage which mainly translates into the uninstall rate, retention (number of times opened), and the number/amount of purchases. Google and Apple have a real financial interest to push the apps that generate the most transactions because both stores earn a commission on the in-app purchase revenue generated.
Finally, one last factor not to be overlooked is the app's rating and number of reviews.
A rating below 4 is considered "bad" for ranking. Ratings can have a positive or negative effect on the number of downloads. In this regard, Google reported that from August 2019 onwards, the most recent ratings would count for more than the overall average in rankings. So new ratings and the number of ratings will carry more weight.
Designing attractive and easy to understand visuals
Original and attractive visuals will help the app to stand out on the stores. They are also an effective and simple way to convey the key advantages of your app and boost conversion.
Above all, don't neglect your icon. This is what immediately identifies your app and its universe. If your app is not well-known, be as explicit as possible. An icon that is too conceptual may not be evocative enough. Your icon should be eye-catching while locating the app in its environment.
Screenshots and videos are visible from the results list. You can even display autoplay videos (without sound) and/or screenshots in the search results, on both stores. These elements play a really important role in attracting users to your page.
Landscape mode gives you a bigger area to express yourself, especially given the size of phone screens and is preferred on the Play Store for videos. However, on the App Store, all visuals must respect the primary orientation of your app.
Generally speaking, these elements will undoubtedly be the most viewed on your page. Not only because of their location but because users are naturally more inclined to look at visuals rather than read text.
Conclusion
Like any optimization process, it's not enough to meet the basic requirements (number of characters or number of screenshots) to get satisfactory results. Store rules change regularly in response to operating system updates. So it's vital to be aware of these developments. Think about using A/B testing too to try out different versions of your store page.
If you're thinking about investing in App Store Optimization (ASO), we would strongly recommend that you use an ASO expert. One thing is for sure, nobody knows your app better than you do, but when it comes to marketing and graphics, getting help from experts equipped with specific tools like Addict Mobile is priceless. Working with an expert can make a real difference if you conduct acquisition marketing campaigns at the same time.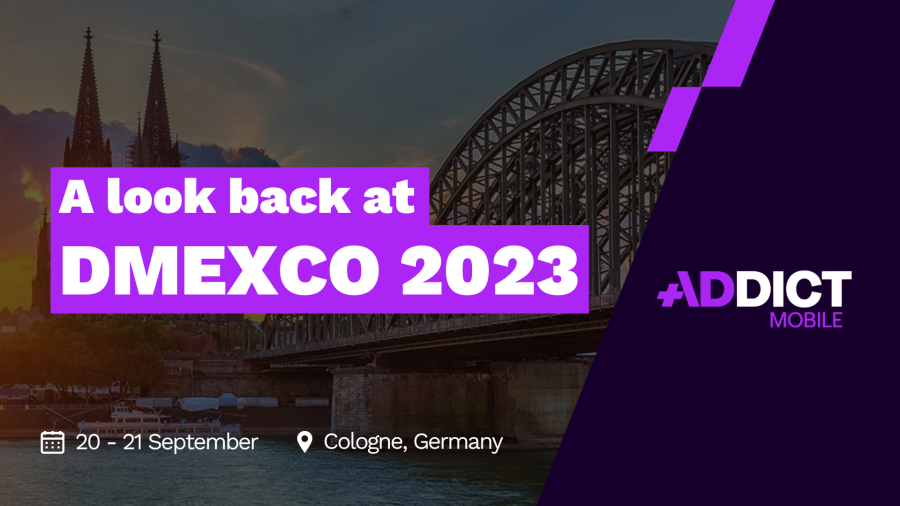 We'll skip the details about the barbecue offered by Eyeo, the privacy player, and the DMEXCO Party hosted by MMA Germany, AppsFlyer, and...
Published on 25 September 2023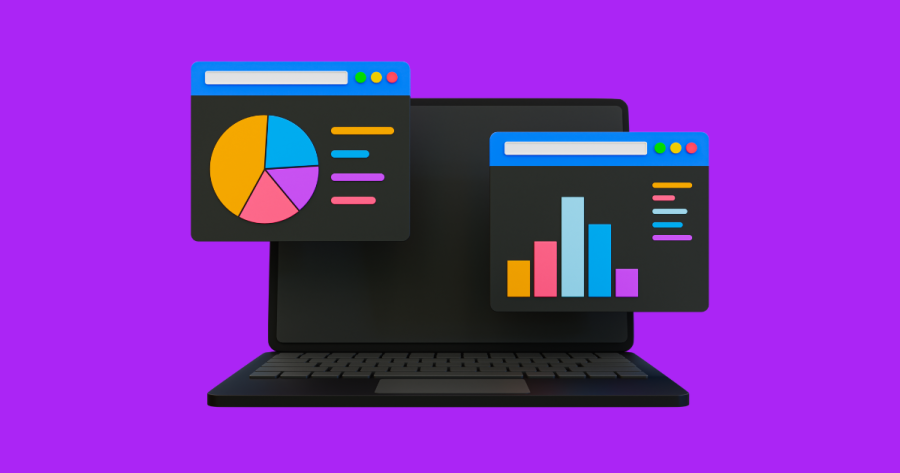 Meta's recent announcement of SKAN 4.0 support in July 2023 accelerated its adoption worldwide. This adoption was ultimately delayed due to the discovery...
Published on 13 September 2023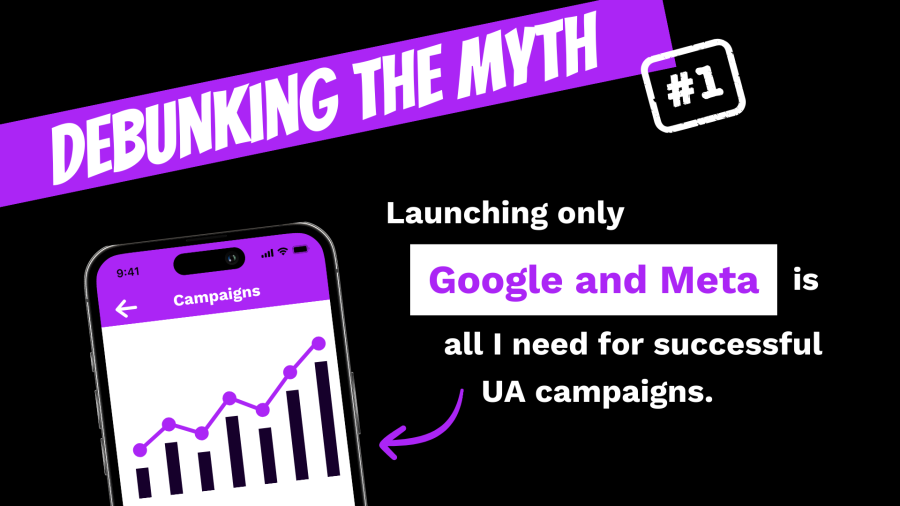 "Launching only Google and Meta is all I need for successful UA campaigns." The question of whether there is actual performance beyond the...
Published on 5 September 2023