REPORTING
Reporting adapted to your needs and updated on a daily basis
We guarantee
100% transparency
Reporting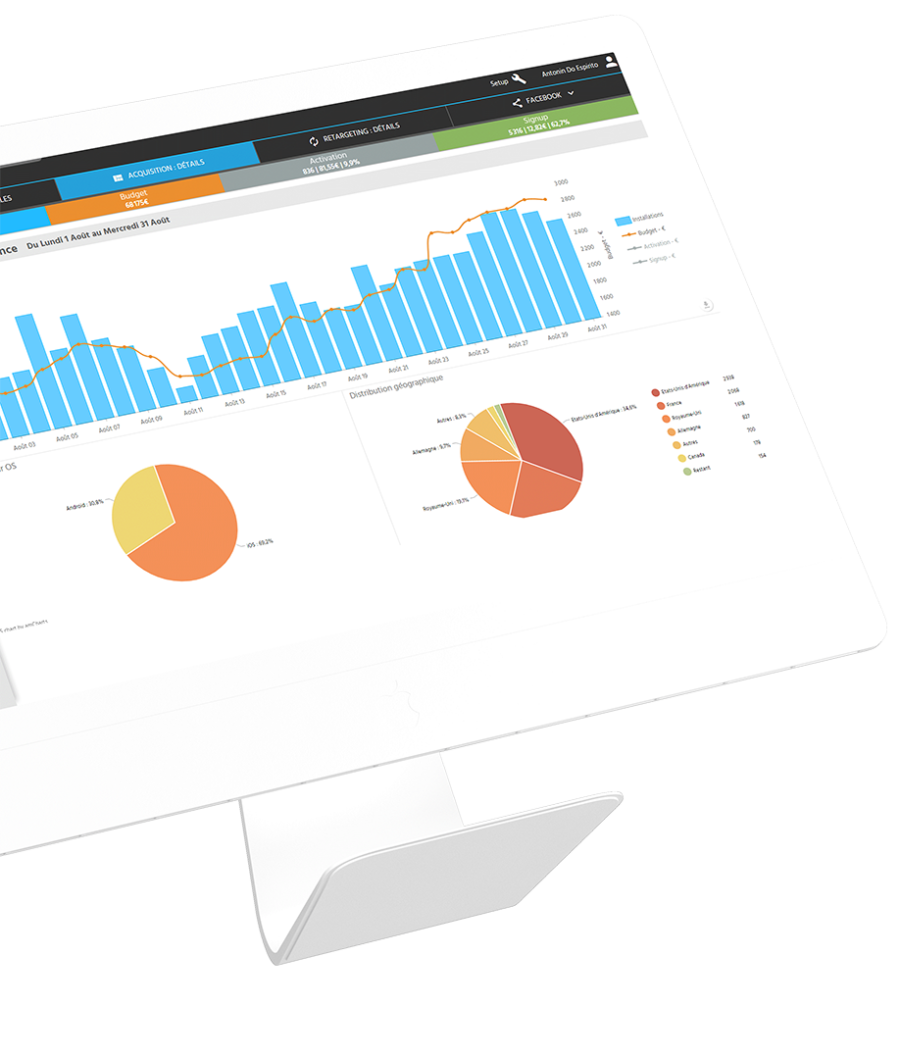 Dashboard
All your data campaigns grouped into a single tool. Access campaign performances in real-time: CPC, CPI, CPL, CPA, ROI, ROAS, cost per visit, etc. By source, country, OS, creatives. All information required for a global or detailed vision.
Automatic emails
Receive a summary of the main KPIs for your campaign, which can be configured to meet your needs.
API
Sign into the Addict Mobile API to integrate campaign data into your BI.
Detailed reports
Receive weekly, the strategies implemented and the detailed performances to follow the evolution of your campaigns.
Client communication
Dedicated teams
A commercial and operational team dedicated to your project.
Messaging
Our teams can be reached via various instant messaging tools (Slack, Teams, Google, etc.)
Weekly call
To accompany the detailed report, our teams are available for a weekly follow-up exchange
QBR
A quarterly report to assess and summarize the progress of your mobile campaigns.

Discover the other steps to a successful acquisition strategy
FAQ
Nous vous donnons accès à toute la donnée de campagne via notre Dashboard. Les différents niveaux de reporting automatiques et humains que nous proposons vous permettre de comprendre quelles stratégies nous avons mises en place, quelle a été le rythme de dépenses hebdomadaires, quelles sources nous avons privilégiées et surtout quel retour sur investissements en fonction des campagnes. Une granularité par visuels est également proposée.
Lorem ipsum dolor sit amet, consetetur sadipscing elitr, sed diam nonumy eirmod tempor invidunt ut labore et dolore magna aliquyam erat, sed diam voluptua. At vero eos et accusam et justo duo dolores et ea rebum. Stet clita kasd gubergren, no sea takimata sanctus est Lorem ipsum dolor sit amet. Lorem ipsum dolor sit amet, consetetur sadipscing elitr, sed diam nonumy eirmod tempor invidunt ut labore et dolore magna aliquyam erat, sed diam voluptua. At vero eos et accusam et justo duo dolores et ea rebum. Stet clita kasd gubergren, no sea takimata sanctus est Lorem ipsum dolor sit amet
Aucune. Nous nous appuyons sur vos outils de tracking. Nos équipes maîtrisent toutes les plateformes et peuvent ainsi prendre les meilleures décisions pour vos campagnes. Notre dashboard a pour but d'agréger les données de toutes les sources et de les comparer aux revenus générer pour chaque campagne, chaque créas etc…