Our methodology
Let's discuss the profitability of your campaigns
Addict offers you an analysis of your current acquisition campaigns to establish the strategy best suited to your objectives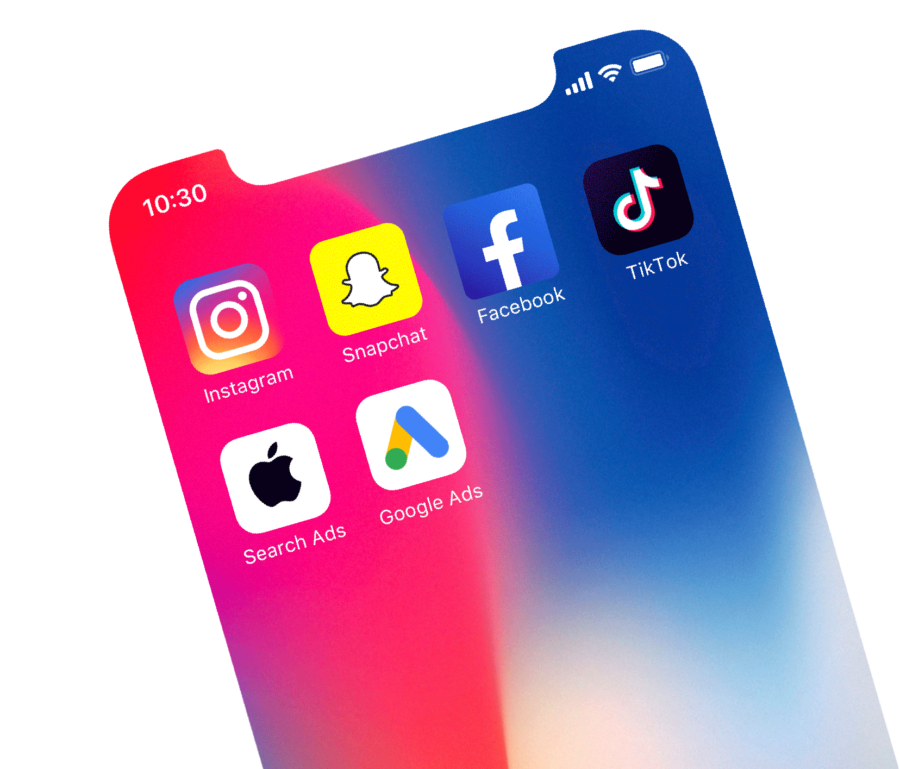 Current

analysis
Ideally, our teams make a quick audit of your advertising account history and tracking tools in order to identify areas for optimization. This will allow us to offer you a pertinent strategy in order to achieve your goals. If that's not possible, we'll compare your objectives with our market data and, at the very least, we'll put together a proposal with objectives that align with your model
Proposal of a media plan

and strategy definition

Before starting out collaboration, Addict Mobile will propose a strategy and media plan, including KPI estimates (CPI, CPA, etc.) for each source, OS and country. We can also propose recommendations for your store page if needed.

Road Map, timeline, daily budget
Test & learn
approach
Launching low-volume campaigns to identify the best settings. The strategy, campaign set-up and creatives are all adjusted in line with the results we observe. Progressive budget increase. This approach allows you to use concrete grounds to evaluate the added value that we can offer you. It also allows you to validate our capacity to support you.
Precise monitoring

according to objectives

CPA, ROAS, ROI, CPR, Retention… All our reflections and actions are focused on reaching your goals. Our team can support you in reading and understanding KPIs.
Discover the other steps to a successful acquisition strategy
FAQ
Les budgets alloués aux campagnes vont vraiment dépendre des objectifs de vos campagnes. SI vous souhaitez déployer les campagnes sur les 2 OS, plusieurs pays et tester toutes les sources le rythme devra être plus intense. Nous recommandons un budget minimum de 20K€ qui permettra de tester différentes configurations et avoir des résultats suffisamment représentatifs du potentiel de ROI des campagnes. Nous démarrons à petit volume pour identifier les poches de rentabilité puis nous accélérons quand nous sommes surs d'être dans les objectifs.
Les pays ciblés dépendront de votre application. Si celle ci se prête à une utilisation dans tous les pays (langue, UX, adaptation…) alors nous recommandons de lancer les campagnes sur le plus de pays possible. Sinon on démarre avec les pays les plus en cohérence avec vos objectifs (achat, rétention, ROAS… ). La stratégie variera en fonction des pays et des résultats observés sur chacun.
Plus on a de visuels, plus on sera en capacité d'identifier les concepts qui performent le mieux. Pour démarrer nos équipes produisent gratuitement un ensemble de concept pour les tests. Ensuite nous rafraîchissons régulièrement en fonction des besoins des campagnes et des budgets.